Benefits of Professional Carpet Cleaning
When UCM Services Wilmington cleans your carpets, you enjoy all the benefits of a professional carpet cleaning, such as:
Professional cleaning equipment - we use truck mounts for the very best in steam cleaning for your carpets. Carpets we clean typically dry completely in a matter of hours. Steam cleaning not your speed? We have the professional equipment for all the carpet cleaning methods we employ.
Experience - all of our carpet cleaners know how to choose the proper carpet cleaning process, depending on fiber type, dye type and general condition, but we also make sure that they know how to use our equipment properly. Inexperience is the number one reason why carpets get too wet in the cleaning process, potentially damaging the backing and just taking too long to dry. We provide the best carpet cleaning services, every time.
Superior stain removal - we remove all kinds of stains: wine, pet stains, ground in dirt in high traffic areas. Because we remove carpet stains every day, we have the right stain treatment on hand for every kind of stain, for industry leading results that will bring a smile to your face.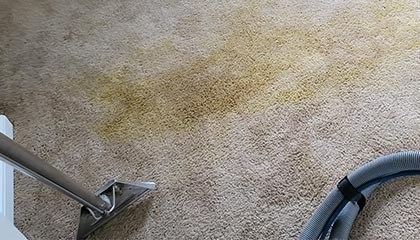 No Compromises on Health
One of our mains goals is to remove allergens and pathogens from your living and working environments. Exposure to dust mites in particular has been associated with asthma development in children. As dust levels go down and dust mites are shown the door after carpet cleaning, indoor allergies and asthma settle down too.
We are also extremely careful about the cleaning solutions we introduce into your home. When we committed ourselves to green cleaning, we pledged to only use hypoallergenic cleaning solutions for all our cleaning services, for eco-friendly cleaning at its best. Our cleaning solutions are completely safe for your children, and for your pets, too! No allergy triggers, no residue, no problems. Just clean carpet.
Our Satisfaction Guarantee
UCM Services Wilmington strives to always provide great carpet cleaning, and we hope you will be happy with it. If you are not 100% satisfied with your carpet cleaning, we will come back and do it again at no additional cost. Our customers are our #1 priority, always.
Our Carpet Cleaning Methods
Steam cleaning - uses hot water and powerful suction to remove dust and dirt from deep in the carpet.
Carpet shampoo - soft and lightly fragrant shampoos are gently agitated into the carpet's pile.
Carpet deep cleaning - intensive cleaning for heavily soiled and smelly carpets.
Dry cleaning - absorbent dry compound together with a gentle.
Bonnet cleaning - uses a special pad (the bonnet) to absorb dirt directly from the carpet.
Call 978-267-7699 for your free estimate today. We are always happy to answer questions about our services.